If like me you frequently send money back to Sri Lanka, it's important to know how to play the game.
You can save yourself some dollars or rupees by knowing if things are going up or down, here's where x-rates.com comes to help.
Pick the two currencies from where your sending and receiving and hey presto you have a graph.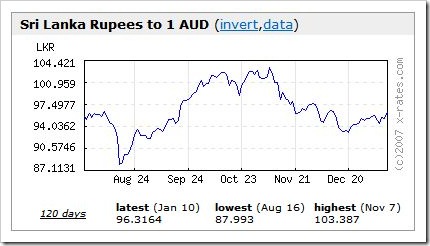 I for one will be waiting a couple more days before my next transfer.
Oh and I nearly forgot, the guys at Ceylinco Fast Cash give a really good service when sending money home. My last transfer went through like a breeze, in less than one hour, I deposited some money in Sydney and my brother withdrew from Colombo. Both of us were SMS'd every step of the way by their automated system.
Plus if you use there service about 6 times they provide a number of free benefits including a "doctor on call and other medical services for your loved ones in Sri Lanka".